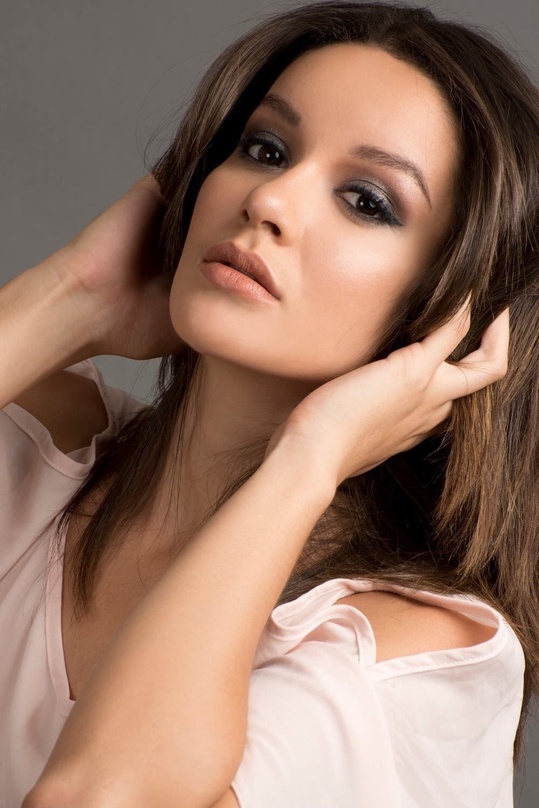 Today after a long missing in action I am back with a classic post on how to achieve that beautiful Brigitte Bardot inspired makeup look on one of my favorite talented model Ohara Malavida of the FTV Talent House (agency). This photograph is by Munjal Gandhi and of course the makeup is by ME.
Brigitte Bardot was known for her classic dark sooty smokey eyes and a nude beige mouth. Her makeup style was revolutionary and now is considered as one of the most iconic and inspired looks. One must note that we did makeup as the inspiration and not the famous Bardot boufant.
Lets see some steps to achieve this look. Please note that the pic is photoshopped and edited but the essence of the makeup is almost unaltered.
THE PREP
Prep the skin with a dollop of moisturizer. If your skin is flaky then exfoliate to eliminate dead cells and surface debris. If your skin is dry then use a face oil like the L'Oreal Extraordinary Boosting Oil and massage to eliminate dryness. If your skin is oily then use a lightweight hydrating moisturizer followed by a pore minimizing primer to keep the skin shine free.
I love hydrating mists and setting sprays as they have glycerin and act as good humectants as well as primers.
Nikkitutorials, who is a YouTub Guru also recommends Nivea's After Shave Balm in Sensitive as a great priming product and I have tried and tested and I am loving it.
THE BASE
Be forgiving to your skin by applying a translucent veil of color and not going overboard with extreme full coverage foundation until you need it or like it. I applied my current favorite drugstore foundation from Maybelline called Fit me to get a nice poreless finish on the model's oily skin. This foundation is long lasting, mattifying and gives almost a silky velvet feel to the skin.
A little bit of extra foundation on the prime areas of the face to add coverage. I used it under the eyes, around the nose and the chin area to combat as much as redness as I could.
I applied a fantastic HD liquid concealer from LA Girl which is famous for their wider range of colors.
Set the whole thing with a translucent powder. I chose the MAC Setting powder in Light Yellow. I used a fluffy powder puff to apply powder and then dusted off the excess with a powder brush.
THE EYES
The eyes are the prime focus of the look and the lips really help compliment and focus on the eye makeup. Brigitte used to love those sooty black smokey eyes and you can see a reference here.
In its modern interpretation I added a winged liner and higher transitioning crease.
Firstly I primed the lids with Kat Von D High Voltage primer to get rid of any broken veins and discoloration. Then I added an extra layer of MAC Pro Prime Paint Pot in Layin' Down to correct the lid further, add opacity to bring out the true colors and make the eyeshadows stay longer. I had to do this step as we added some extra eyegloss in the next look.
With a chubby Rimmel Scandaleyes Pencil in Black I sketched a stencil to fill in the smokey colors. Blended with a fluffy brush upto the crease to eliminate solid lines and create a smoother surface for the other eyeshadows to adhere.
From the Smashbox Master class palette, I used the BLACK OUT eyeshadow on the outer corners and the lower lids, SLATE eyeshadow which is sooty matte grey on the entire mobile lid upto the crease, SUMATRA in the crease, NUDE as a transition and finally highlighted with STILA Kitten for some extra oomph.
I traced the inner rims of the lower lids with MISS CLAIRE One stroke eye pencil and lined the lids with my favorite Catrice Liquid eyeliner.
Curling the lashes with a QVC eyelash curler, I applied a lot of Catrice Waterproof mascara for smokey peepers.
THE CHEEKS
I cannot live without my Anastasia Contour kit and used the color FAWN to give some amazing sculpted cheek bones.
For the highlights I used Gerard Cosmetics Star Powder in Audrey.
The blush is Edward Bess Desert Blossom.
I love to create a warmth and transition so that all looks like its put together. I used my Guerlain Terracotta Mosaic Powder and it did do a neat job.
THE LIPS
I exfoliated the lips by rubbing Vaseline and then gently wiping off with a dry tissue.
Then applied a Kryolan Derma Concealer to take away the natural pink coloring of the lips.
My color of choice for this and such types of looks is Too Faced cosmetics Melted Lipstick in Nude and trust me, its one of the best colors I have.
So thats the look and I hope you all like it. Do let me know in the comments and let me know which is your favorite lipstick and why?
Till then,
Ciao
Please do not copy any pictures or content of Beauty Traveller without prior permission. Thanks for reading my blog. I don't give 100% on the authenticity of the content here and it is subject to change without prior notice. Please read the disclaimer for any questions.